Ok, so this weeks recipe comes from one of our very own Bootcamp Tulsa clients.
When I heard it I new you ladies would love it and asked her to share it with you.
So here ya go form the one and only, Mrs. Lori Whitmore. Enjoy!
So who doesn't love a good recipe that the entire family enjoys but is also full of vitamins and nutrients your body needs?!
If that's you, you are going to want to check this healthy, family friendly recipe out.
One of the great things about going to BcT at Hunter Park on Saturday's is not only hitting up Whole Foods afterwards for a delicious smoothie but also going there so I can get in some healthy shopping for the week to help my family taste the rainbow…and I don't mean skittles!! 😉
Many of the vegetables and herbs I used in this recipe came from the beautiful organic produce section at Whole Foods (at 91st & Yale). I love buying organic because I know that what I'm serving my family is healthy and free of harmful chemicals! Also a few of the items came from the garden in our backyard!! 😉
HOW TO MAKE IT HAPPEN:
6 boneless, skinless organic chicken breasts
1 red pepper (sliced)
1 orange pepper (sliced)
1 yellow pepper (sliced)
1 green pepper (sliced)
1/2 a bundle of yellow baby tomatoes – cut in half
1/2 a bundle of red baby tomatoes – cut in half
1 package of mushrooms (sliced or diced)
1 jalapeno (de-seeded, halved and sliced) – If your family loves spicy things, throw in a couple extra for more flavor! 😉
1/2 a package of green onions (diced)
1/2 a head of boston lettuce (or butter lettuce) leaves
1 can of black beans (or your preference of beans! Any kind will work!)
1 cup of shredded cheese (optional)
1 cup of sour cream (optional)
1 cup of salsa (optional)
ancho chile pepper
ground cayenne red pepper
ground cumin
hot madras curry powder
ground turmeric
pepper
salt
extra virgin olive oil
cilantro
perfect pinch cajun (or mexican) seasoning
tajin
garlic
parsley
old bay seasoning
chicken broth
*All seasonings are added to taste in approximately 1 cup of EVOO. I added more tajin than anything else and just sprinkle in the other seasonings in moderation. I also recommend using as many ingredients (herbs, garlic etc) that are fresh. It really magnifies the flavor.
If your kiddos love spicy foods, feel free to get a little more generous with a few of the HOTTER spices for a little extra KICK!
COOKING THE CHICKEN:
Turn on your grill or pan on the cook top over medium to high heat. While that's warming up, dip your chicken (or veggies if you're a vegetarian) in the EVOO and spice mix. Coat them well and then once the pan is hot enough, place all of the chicken in the pan and cook on low to medium heat for approximately 15 minutes. Make sure you turn the heat down or your meat will burn and you will have a mess on your hands. Turn the chicken breasts often. Slowly add one container of chicken broth as you continue to cook the meat. This will add an authentic flavor that will make everyone in your family think you catered in from a Mexican restaurant. It will also keep the meat moist. It is one of my best keep secrets and I use it in a lot of things I cook with. I know it probably sounds crazy but give it a whirl.
While your meat is cooking this is the perfect time to prep your veggies.
FAMILY TIME!
I let my kiddos help me wash the veggies and pick out all of the seeds (if they want to) and this helps get them involved for some great family time together! My boys even snacked on the fresh cut veggies while they waited for dinner! How awesome is that?! 🙂
Once you have all of your veggies sliced your meat should be done. Leave the EVOO/spice mix in the pan and drain the meat off onto a plate. Set it aside to shred later. Now place the mushrooms, jalapeno(es), and green onions in the leftover (warm) EVOO seasoning mix. Brown them until cooked to desired texture. Remove and add your next vegetable until all of the remaining ingredients are cooked. I also add more chicken broth as I cook the veggies to keep the seasoning from burning and gives it that authentic flare!
Heat up your beans and set out any other condiments you would like to serve such as cheese, sour cream, salsa, etc, just get creative. The more the merrier.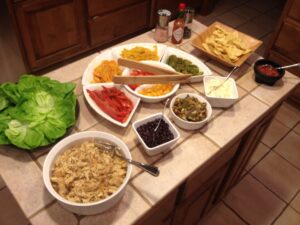 Once this is all ready, take two forks and "shred" (don't slice) each chicken breast until they are all in finely shredded pieces. Add more chicken broth, mixing the chicken into the broth and add back to the pan you have been cooking all of the food in. Mix all the flavors into the chicken over high heat. This gives your chicken that extra KICK while making it hot again just before serving.
Lastly, spread your boston lettuce leaves out on a plate for serving. The thing I love about the boston lettuce is that it is sturdy enough to hold all of your delicious food in without tearing easily.
THE KIDS LOVE IT!
The kids love eating with their hands and my boys seem to really think it was fun to eat with lettuce instead of a tortilla. The more fun you make it, the more eager they might be to try new, healthier things.
Between tasting the rainbow in this delicious, healthy meal and incorporating the kids with the prepping, it is an all around WIN for the entire family. Everyone can add what they like to their own wrap and I am sure it will be a hit for your family just like it was mine.
Bon appetit! 😀