You want to WIN more in an area of your life? We all want to be more or achieve more in something in life. Why do some people seem to always WIN while others seem to always be trying to WIN?
To WIN more in life you're gonna have to…
1. START doing some things different
2. CHANGE the way you're doing things
3. STOP doing certain things
To WIN more in life there are 3 things you need to do RIGHT NOW. These 3 Keys are my 3 Keys to you WINNING MORE and to Losing More! It's simple… Start to do the things to WIN and Start to LOSE(get rid of ) the things holding you back!
Here are your 3 Keys To WINNING MORE and to LOSE MORE!
DESIRE
You wanting it is the first key to WIN more. You gotta want it! You must have a desire for what you want to do and what you want to accomplish. What do you want? To lose weight? To make more money? To be more successful? You may have the desire to be more and achieve more…you may have the desire for change in an areas and be more successful, and that desire is where it all starts. Without the want…the drive…the gotta have it…it will be hard to WIN more. Getting rid of those things holding you back is not easy but necessary! Once you determine what that desire, that STRONG desire is…Losing those things holding you back becomes easy.  It takes hard work and discipline to WIN and we know that… Once you have that burning desire, that is what will push you through to WIN even during the challenging times.
What do you STRONGLY desire?
What do you need to LOSE starting today so that you can WIN?
KNOWLEDGE
The RIGHT information is the second key to WIN more. Desire is a must and then you gotta have the right information. You gotta have the knowledge to go with the desire or the success won't come. You must have knowledge to know how to WIN more in life and lose those things that are holding you back… What to do? When to do it? How to do it? How much to do it? You need the right tools and the right knowledge to be successful. It's like training your physical body… with the knowledge of the right exercises to perform and the right nutrients to take in you can WIN in your physical body. How about training your mindset to WIN. You want to WIN more in life and Lose more those things that are causing you to lose? You need to change your thinking! This is what will help keep you FOCUSED for good and this is what will assure you WIN more in life. THE WINNIG MINDSET!
What knowledge do you have? What Knowledge do yo need?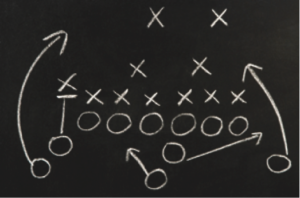 A GAME PLAN
Having the RIGHT GAMEPLAN is the final key to WIN more. This is the one where most people fail. Just like a successful sports program, you need to build a step-by-step plan of action and know how to execute it. You want to to WIN more in life and lose those things that are keeping you from being champion… You want to be more and achieve more…reach your goals and live the best, healthiest, prosperous, most fulfilled life that you can? Have the RIGHT game plan and execute it to WIN.
What's your gameplan?
You want to WIN more in life and Lose more in your weight loss pick up a copy of my book "The Secret to Real Weight Loss Success" and be on your way to WINNING in fitness, nutrition and in life!
If you enjoyed this post, we would be honored if you share this goodness with some of your friends and family using one of those social media sharing buttons below…
WIN ALL DAY!
COACH JC
My kick butt women's only fitness program in Tulsa, Bootcamp Tulsa's Change a Life Challenge event is on Friday, October 3 at 6pm at Christian Chapel. Thank you to The Vintage Pearl for supporting this amazing event benefitting Royal Family Kids Camp!

The Vintage Pearl is the #1 when it comes to handstamped jewelry and made up of great people and a great vision. Thank you to everyone at The Vintage Pearl for helping us CHANGE LIVES this month!