One of the things Coach JC enjoys is some great Chinese food, so I thought I would give it a try, at home, cooking it myself with a healthy flare.
What was I thinking as I stroll through the aisles at Whole Foods Tulsa grabbing each of the items I needed, trying to talk myself into sticking with the plan…
"I can do this, nothing to feel overwhelmed with. Right?!"
I could hear Coach JC in my head saying…
"YOU HAVE WHAT IT TAKES!"

"If You Want Something You Never Had COMMIT To Doing Something You've Never Done!"
The first dish I gave a try at is General Tso's Chicken, it turned out to be super easy and tasted great.
WHAT YOU NEED:
5 tbls. of cornstarch
2 tbls of reduced sodium soy sauce
2 tbls of cooking white wine
1 large egg white
1.5 lbs of skinless chicken thighs
3/4 cups of water
2 tbls of hoisin sauce
1 tbls rice vinegar
3 tbls of sesame oil
3 scallions-sliced
3 large carrots-sliced thin
medium size crown of broccoli
4 cloves of garlic
2 cups of snow peas
Brown rice

How To Make It Happen!
Start off with combining 4 tbls of cornstarch, 1 tbls of soy sauce and the white cooking wine, and the large egg white in a bowl. Add your chicken and stir to coat the chicken, then set aside for later.
Start the process of cooking your brown rice. If it's not post workout, put your veggies and meat that you are about to prepare over a bed of green cabbage that is chopped.
I then cut the broccoli off the crown and into bite size pieces and lightly steamed-under steam these because you will be cooking them longer a little later and you don't want them to be soggy.
In another bowl combine the remaining 1 tbls each of cornstarch, soy sauce, and white cooking wine, water, hoisin and rice vinegar stir this all together and set aside.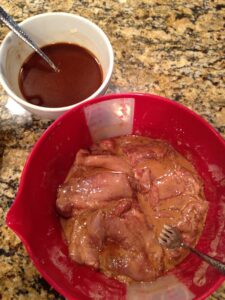 In a cast iron skillet heat 2 tbls of sesame oil over high heat, add the chicken, cook without turning for a few minutes, then flip and do the same. You want them to get a little crispy and golden brown

In the large deep sauce pan place the remaining sesame oil, scallions and chopped garlic cloves. Cook, stirring, until fragrant, maybe for 3-4 minutes. Next add all of the veggies and cook, stirring often. Only cook for 2-3 minutes.

Finally add the remaining sauce in the smaller bowl to the veggies and cook for 2 more minutes.
Now plate it all and wa-la…DINNER is done!

Bootcamp Tulsa's Change a Life Challenge event is on Friday, October 3 at 6pm at Christian Chapel. Thank you to The Vintage Pearl for supporting this amazing event benefitting Royal Family Kids Camp!

The Vintage Pearl is the #1 when it comes to handstamped jewelry and made up of great people and a great vision. Thank you to everyone at The Vintage Pearl for helping us CHANGE LIVES this month!
If you enjoyed this post, we would be honored if you share this goodness with some of your friends and family using one of those social media sharing buttons below…
Keep WINNING!
The Bootcamp Tulsa Family
PS. YOU WANT MORE WAYS TO WIN IN YOUR FITNESS NUTRITION AND LIFE TAKE ACTION NOW AND GET COACH JC's EMAILS DELIVERED TO YOU EACH WEEK…