I have so many people ask us all thee time…
"What do you and Coach JC eat when you go out to eat?"
"Where do you guys go to eat out?"
I hear it all the time, "It's so hard to follow The 10 Habits when I go out to eat…"
Once you master The 10 Habits, you can find(or should I say create) a meal at most any place you go.
So where does Coach JC choose to go when eating out?
We have some of our favorite go-to restaurants…
One of our favorite places where it is simple to hit all The 10 Habits is Jason's Deli.
They have lots to choose from but to be honest we don't even know what else is on their large menu.
When we go there we are there for one reason…to hit up their salad bar.
Organic and a large variety of produce that is always fresh.
It's a quick easy lunch where we can eat in or choose to get it to go.
And it's a fun healthy dinner with the family.
Meeting the 10 Habits to WIN in your Eating is simple here.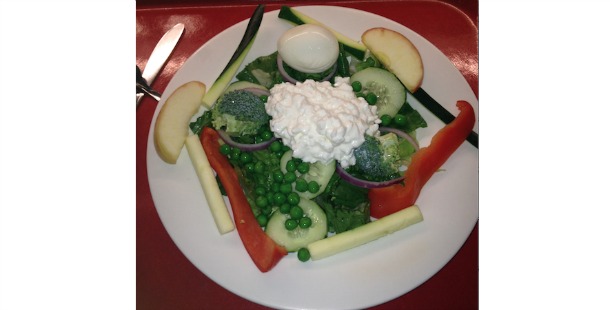 1. Where's complete lean protein – Cottage cheese
2. Where are my veggies – All over this plate!
3. Healthy fats – Olive oil as my dressing
4. Did I earn my starchy carbs?  I didn't have any, because I hadn't worked out 🙂
5. Has it been longer than 3 hours since my last meal? No way!
6.  Zero calorie drink – Water with lemon
7. Eat whole foods when possible – check!
8. Plan and prepare – We planned to eat at Jason's Deli
9. Eat a wide variety of foods – You can see them.
10. Am I using my 10%? Nope not this meal!
Jason's Deli, it's a "go to" for us.
We would love to hear from you on what some of your go-to's are when eating out to stay complaint with The 10 Habits.
If you enjoyed this post, we would be honored if you share this goodness with some of your friends and family using one of those social media sharing buttons below…
jc
Keep WINNING!
jc
Jodi & Your BcT Family
jc
PS. And if you'd like to get more posts like this one and start WINNING more, just subscribe here and I'll send you the new one's as I post them…