So who doesn't LOVE watermelon in the Summer???
Coach JC and I have to buy 1-2 a week and we eat them as fast as we buy them.
One of the funnest things is trying to pick out the perfect watermelon over at Whole Foods 91st & Yale…
We have fun with it and the crew over there helps us out… We have been given all kinds of "hints" but when you tap on them, they sound the same to me 😉
Anyway, I was trying to come up with a new twist to fish tacos and came up with this one that I know you are going to enjoy.
Summertime Watermelon Tacos
How to make it happen:
4 cups of seedless watermelon
½ cup of diced red onion
½ cup of cilantro
juice from 2 limes
and of course (my favorite for every recipe) ½ of a large jalapeño deseeded and chopped fine.
*Mix all of this goodness together then drizzle 1 tbsp. of olive oil over it and sprinkle salt (we use Malaysian salt) to your tasting.
For a little different taste you can dice up half of a granny smith apple and place in your watermelon pico too.
Set this in the fridge to chill while you cook your fish.
Cooking The Fish:
Turn your grill on high and wait to get warm. Get your mahi mahi (or light white fish) and drizzle lightly with another tbsp. of olive oil and then season with salt, pepper, garlic powder, and chili pepper, do this to both sides. Then take out to the grill and grill them up.
While this is cooking shred up some romaine lettuce or green cabbage. Toss this in 2 tbsps. of olive oil, some of the juice form the salsa that is in the fridge, or leftover juice that is running off the watermelon, do a couple of dashes of salt and put in the fridge until the fish is done.
Also, I enjoy throwing the corn or flour tortillas on the grill to get great flavor and warm them up at the same time.
Break up the fish into small pieces for the tacos and start building your own tacos and enjoy this fun twist on your everyday fish tacos.
I like to add a little more cilantro and fresh lime to each of my tacos J
And there you have it…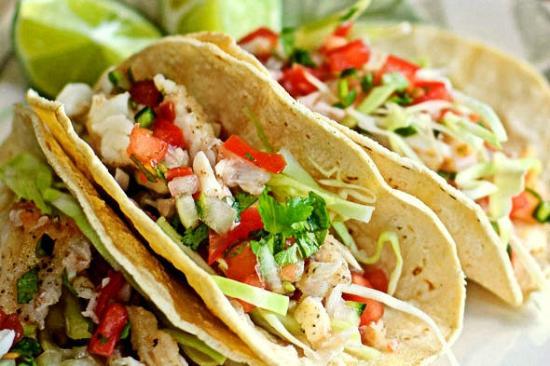 This recipe is so easy and great tasting, your going to love them!
Let me know what you think!
If you enjoyed this post, we would be honored if you share this goodness with some of your friends and family using one of those social media sharing buttons below…
Keep WINNING!
The Bootcamp Tulsa Family
PS. And if you'd like to get more posts like this one and start WINNING more, just subscribe here and I'll send you the new one's as I post them…