"ALL THINGS!"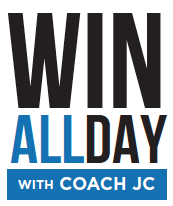 I put together a WINNING WORD OF THE DAY so you can WIN. The word for today is ALL THINGS..
ALL THINGS!
Philippians 4:13 says:
I can do all things through Christ who strengthens me.
All Things are possible!
Here are my 3 A'S to make All Things possible:
1. Anticipate
2. Align
3. Act
>
Your belief will create your truth in your life!
Faith is the substance of things hoped for.
Do you have a winning team or a losing team?
…..Upgrade your environment!
Act as if you are already there!
To WIN ALL DAY it is time for you to:
Finish Strong!
Who Loves Ya?!
I Do!
WIN ALL DAY!
Coach JC