Man aren't these funny yet cool looking vegetables?
I never even tried one growing up, they looked weird so they HAD to taste weird.
Oh man, kids think up the funniest things.
Anyway, marrying into an Italian family and going to family dinners I kept seeing them and not daring to try one.
Finally, Coach JC said I MUST, so I tried one.
After psyching myself up for it, I pulled a leaf from the flower head, put it in my mouth, scraped off the "meat" and OMG, I WAS IN heaven.
 From then on, I can't get enough of them.
Besides tasting delicious, artichokes are packed with antioxidants, making them incredible defenders against cancer,heart disease, and many other illnesses.
They boost the immune system and can even lower your cholesterol.
Now who wouldn't want to try this after hearing that?
One Christmas when we had gone back east to see his family,Coach JC's mom taught me how to make them.
It was super easy and fun to do.
How To Make It Happen…
Get a large/deep sauce pan like pictured below and fill the bottom with water and  4 table spoons of EVOO.
(I like to use a pan that is squared on the edges, it helps keep the "chokes" standing upright.)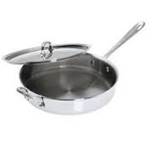 Wash the artichokes, then turn them upside down and smash them gently on the counter.
(This opens up all of the leafs so you can stuff them. Be careful because they can be prickly sometimes and you can prick yourself. If they are really prickly, take a knife and just graze the outsides, nicking those off. Make sure and drain them and then start setting them up in the pan and fill your pan.)
When looking for artichokes, make sure they are green, if they are starting to turn brown, that doesn't mean they are necessarily bad but they will go bad faster, so you will want to make them that night or day.
I usually pick up 2 containers of small/medium artichokes (enough to fill your pan that you have), you can also do large ones, I just prefer the smaller ones)
In a small bowl mix the ingredients below:
Diced or sliced can of olives
6 cloves of garlic diced (or to your liking, the Italians think more is better when it comes to garlic J )
½ cup of Italian Parsley diced up
Salt and pepper to your liking
Some Pecorino Romano cheese like the one shown below (grated)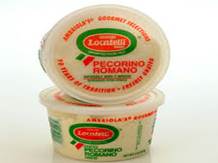 Mix all of this in a bowl, and now you are ready to…
Stuff the chokes
Pick one up and then with your other hand, grab a small handful and start stuffing them between every leaf. Check out my pic of what mine looked like after stuffing them all. You see all of the garlic chunks peeking out? That's for Coach JC!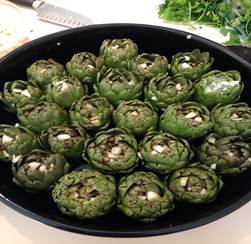 Cover the pan and place it on the stove on high until it starts boiling, then turn it down to a high simmer and cook for 45 min to an hour and 15 min. It really depends on what kind of stove you cook them on (gas/electric).
Make sure to keep checking on them every 20-30 min to make sure there is still enough water and EVOO at the bottom. You do NOT want it to go dry.
And here is the final product!

You can tell when they are done, because they turn to a brownish color and start falling apart.
Also before you take them off the burner, pull a leaf and scrape the "meat" off with your front bottom teeth. The meat is the part on the inside towards where the stem was/where they are all connected.
If it comes off easy and is for and juicy you are ready to eat.
I am telling you, if you don't like these then…well you are silly.
Enjoy!
To learn more about Bootcamp Tulsa or to sign up, call 918-528-4296.
If you enjoyed this post, we would be honored if you share this goodness with some of your friends and family using one of those social media sharing buttons below…
Keep WINNING!
The Bootcamp Tulsa Family
PS. And if you'd like to get more posts like this one and start WINNING more, just subscribe here and I'll send you the new one's as I post them…