"The only thing you should fear in life is dying average or mediocre!"
Fear is real…
If you allow it to, it will child you back from being THE BEST version of you.
The fear of failing, the fear of success, fear of the unknown, fear of what might happen, fear of a promotion.
fear or FAITH?
YOU CHOOSE!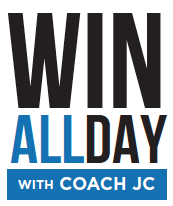 I put together a WINNING WORD OF THE DAY so you can be FEARLESS…

You can either walk in fear or you can walk in faith.
Faith is believing in… or for something that may not be visible at the moment.
Fear is a battle… and it starts in your mind.
WIN THE FIGHT starting today!
What have you not been doing because of fear in your life?
How has fear crippled your dreams and goals?
Starting today, choose to operate in Faith!
Commit live a life of FAITH!
You can choose to be the LION or the sheep…
The lion is the LEADER… a LION hunts for what they want!
A sheep is the follower… a sheep expects those things they need to be handed to them.
Who are you?
ACTION STEPS TO BE FEARLESS:
Choose THE Faith MINDEST!
Choose to SPEAK FAITH!
Faith comes by hearing…
Today you will build faith by hearing from the best salesperson in the world..YOU!
From the best preacher in the world… YOU!
From the best coach in the world…YOU!
YOUR WINNING CONFESSION
"Today is my day!
No one will get in my way…
of BEING THE BEST version of me IN THE WORLD."
IAM STRONG!
IAM POWERFUL!
IAM UNSTOPPABLE!
I WILL WORK UNTIL IAM THE BEST!
I AM FEARLESS!
I AM FEARLESS!
I AM FEARLESS!
I CHOOSE FAITH! I CHOOSE FAITH! I CHOOSE FAITH!"
TAKE ACTION – How you overcome fear is you take action on it! FACE IT!
Just incase you aren't sure what your WINNING confession should look like… I wanted to show you…

If you need more WINNING confessions here are some verses that will help you build crazy faith in your life…
2 Timothy 1:7
Romans 10:17
Psalm 23:4
Who Loves Ya?!
I Do!
WIN ALL DAY!
Coach JC