"Today is your day for a breakthrough!"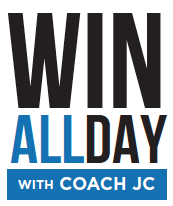 I put together a WINNING WORD OF THE DAY so you can WIN. The word for today is "BREAKTHROUGH"..
BREAKTHROUGH!!
Today is your day for a Breakthrough!
There is one little thing holding you back.
Breakthrough comes when you make one choice to decide that the impossible in your life is the POSSIBLE!
Here are the three B's for you to achieve your breakthrough:
1. BRAIN — Think like you broke through.
2. BELIEF — Believe that you can break through.
3. BLUEPRINT — What is your game plan for your break through?
It is time for you to create your own breakthrough!
This is your year!
Who Loves Ya?!
I Do!
WIN ALL DAY!
Coach JC