"Can you see it?!"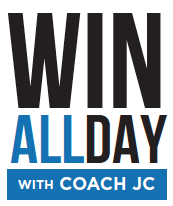 I put together a WINNING WORD OF THE DAY so you can WIN. The word for today is "Can you see it?"..
What are you seeing for your life?

> Physically
> Mentally
> Emotionally
> Spiritually
> Relationships
If you continue to see yourself where you are, you will remain stuck there!
If you want to achieve bigger…..you have to see bigger!

You must see it before you can achieve it!
See yourself on the other side WINNING!
WHAT IS YOUR WHY — IT IS WAY BIGGER THAN YOU!

Get outside yourself and see yourself on the other side!
See it bigger…..WIN more in life!
Who Loves Ya?!
I Do!
WIN ALL DAY!
Coach JC