"Failure is not an option!"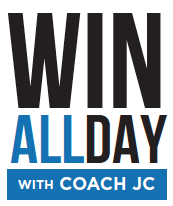 I put together a WINNING WORD OF THE DAY so you can WIN. The word for today is "FAILURE"..
FAILURE IS NOT AN OPTION!!
You think you either win or you lose…..
You either win or you LEARN!
Life is Life
Life is Not Fair
We allow circumstances to make us feel like a failure.
You never fail until you decide you were a failure.
WELCOME FAILURE — SET GOALS A LITTLE HIGHER
Take a risk…..step out of your comfort zone.
Truth growth comes when you hit rock bottom.
Do not be a failure…..be an overcomer.
You can do all things…..you are an overcomer!
"You are a winner…..you are a conquerer…..you are above and not beneath…..you are worth it…..Come on Failure!"
Who Loves Ya?!
I Do!
WIN ALL DAY!
Coach JC