"FEARLESS"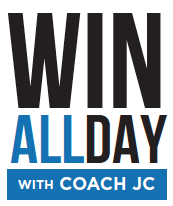 I put together a WINNING WORD OF THE DAY so you can WIN. The word for today is FEARLESS..
WALK IN FAITH OR WALK IN FEAR!
You choose each day……
WALK IN FAITH…..CHOOSE TO BE FEARLESS
Speak Faith….uplift and build you up.

Take crazy, massive, faithful action.
I am fearless!
Faith comes buy hearing….there are so many verses in that book we read.
Create Faith in Your Life!
Today is my day….no one will get in my way of being the best version of me.
I am:
…..unstoppable
…..powerful
…..strong
…..FEARLESS
I choose Faith
Who Loves Ya?!
I Do!
WIN ALL DAY!
Coach JC