"FINISH STRONG!"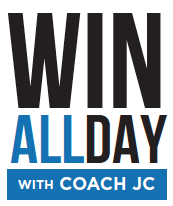 I put together a WINNING WORD OF THE DAY so you can WIN. The word for today is FINISH STRONG..
FINISH WHAT YOU START IN LIFE
There are things in life that we started that we never actually finished:
* Relationship
* Job
* Career
* Physical Body
Maybe you put life on cruise control because you didn't see results you wanted.
Finish Strong!!

I knew a track star with big goals…100 meters from the finish line he glanced over his shoulder…a runner came from behind and the star got second.


Don't worry about what is going on behind….focus on the finish line!

Don't come so close to that breakthrough and never finish.

Finish Strong!

Here are my 2 "B's" to finish strong:

1. Believe

2. Breakthrough

To WIN ALL DAY it is time for you to:
Finish Strong!
Who Loves Ya?!
I Do!
WIN ALL DAY!
Coach JC