This wrap is packed with grilled zucchini, veggies, cheese and hummus.
Ingredients:
1 medium Zucchini, ends removed and sliced
Salt and Pepper to taste
1 tablespoon Coconut oil
1 medium Tomato, sliced
1/8 cup Red Onion, sliced
1 cup Kale, tough stems removed
1 slice cheese
2 large Gluten Free Tortillas
4 tablespoons Hummus
Directions:
Heat a skillet or grill to medium heat.
Remove the ends from the zucchini and slice length wise into strips. Toss sliced zucchini in coconut oil and sprinkle with salt and pepper.
Place sliced zucchini directly on grill and let cook for 3 minutes, turn and cook for 2 more minutes. Set zucchini aside.
Place the tortillas on grill for approximately one minute, or just until grill marks are visible and tortillas are pliable. I like to use some coconut oil in the pan to give the tortilla some flavor, make it crispy and get my healthy fat.
Here are the wraps I like to use…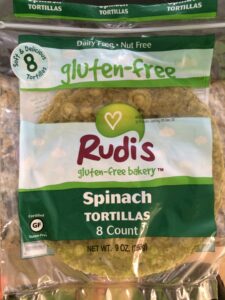 Remove tortillas from grill and assemble wraps, 2 tablespoons of hummus, one slice of cheese, zucchini slices, 1⁄2 cup kale, onion and tomato slices. Wrap tightly and enjoy.
If you enjoyed this post, I would be honored if you share this goodness with some of your friends and family using one of those social media sharing buttons below…
WIN ALL DAY!
COACH JC