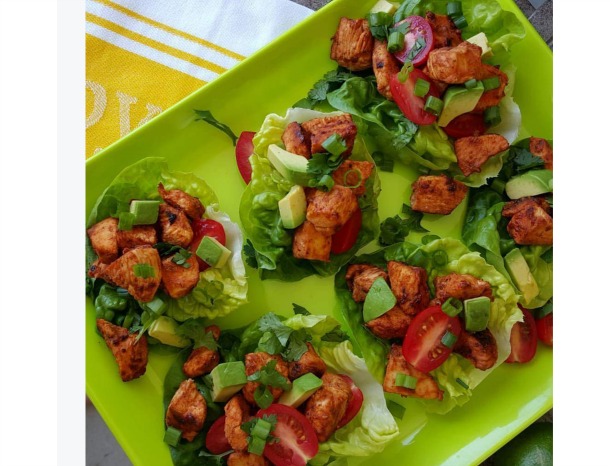 Honey-Lime Sriracha Lettuce Wraps
Today we have a WINNING recipe for you so that you can WIN in your nutrition and WIN in life!
Today's WINNING recipe to meet Coach JC's 10 WINNING Habits is Honey-Lime Sriracha Lettuce Wraps. Where is my lean protein? Where are my healthy fats?
Ingredients:
2 lbs. chicken tenders, diced
olive oil
lettuce for wraps
grape tomatoes
avocado
green onion
cilantro
lime
Marinade Ingredients:
Juice of 2 fresh limes — about 2 Tablespoons
2 – 4 Tabsp Sriracha sauce — or more to taste
1 Tabsp raw honey (optional)
1/2 tsp garlic powder
2 tsp ground cumin
1/2 tsp chili powder
1/2 tsp sea salt
1 Tbsp water
1/2 Tbsp olive or avocado oil
Directions:
Combine marinade ingredients well. Place in medium glass bowl (cover), or gallon ziplock. Add diced chicken tenders.
Marinade four hours, or overnight, refrigerated, turning coat occasionally.
Cook chicken in a large, med-high preheated sauté pan with 2 tsp olive oil. Sauté uncovered until cooked through and outside is crispy. (About 6 – 8 minutes)
Serve immediately on butter lettuce leaves with: tomato, avocado, green onion, cilantro and fresh lime wedges.
If you enjoyed this post, I would be honored if you share this goodness with some of your friends and family using one of those social media sharing buttons below…
WIN ALL DAY!
COACH JC
<!-