"I AM DONE!"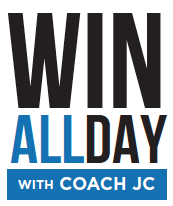 I put together a WINNING WORD OF THE DAY so you can say "I'm Done"..
Today moving forward I am done with negativity in my life!
No more bickering…..
No more winning…..
No more complaining…..
No more slander…..
No more gossip…..
No more moaning…..
No more groaning…..
NO MORE NEGATIVITY IN YOUR LIFE!
Be aware of your environment and what you allow to consume and control you.
You can control what you do in your house, your business, your economy, your own health care.
It is time for a 7-day Detox of NO NEGATIVITY in your life.
Bombard your life with positivity!
"I can do all things through Christ that strengthens me"
Who Loves Ya?!
I Do!
WIN ALL DAY!
Coach JC