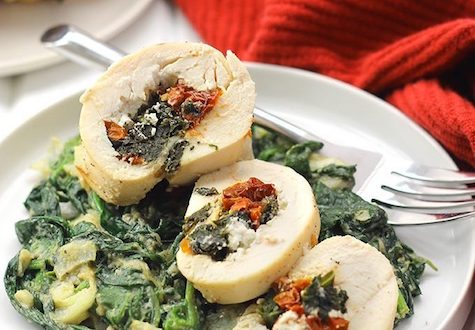 Kale & Sun Dried Tomatoes Stuffed Chicken
Today we have a WINNING recipe for you so that you can WIN in your nutrition and WIN in life!
Today's WINNING recipe to meet Coach JC's 10 WINNING Habits is Kale & Sun Dried Tomatoes Stuffed Chicken. Where is my lean protein?
Ingredients:
4 boneless, skinless chicken breasts (about 8 ounces each)
1 tablespoon olive oil
1/3 cup goat cheese
1 head of kale, stemmed and chopped finely
1 cup sun-dried tomatoes (not canned in oil), chopped finely
Salt and pepper, to taste
Directions:
Preheat oven to 400 degrees F.
Place kale in a large pot and top with 1 tablespoon of olive oil and 1/2 cup of water and heat over medium. Cover and let steam for 2 minutes. Remove top and sauté for several more minutes, until all kale has wilted. Add in sun-dried tomatoes and cook for 3 more minutes. Set aside.
Slice chicken pieces in half and using a mallet, pound chicken slices to make them thinner. Crumble a tablespoon or so of goat cheese onto each piece of chicken and top with about 2 tablespoons of the kale and sun-dried tomato mixture. Roll up pieces and place seam side down in a baking dish. Top with freshly ground salt and pepper.
Bake for 20-25 minutes or until chicken has cooked all the way through and is no longer pink (mine takes about 23 minutes). Serve warm.
If you enjoyed this post, we would be honored if you share this goodness with some of your friends and family using one of those social media sharing buttons below…
Keep WINNING!
The Bootcamp Tulsa Family