Raise Your Standard!
"Today is your day to raise your Standard!"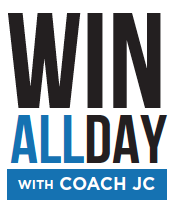 I put together a WINNING WORD OF THE DAY so you can WIN. The word for today is "RAISE YOUR STANDARD"..
RAISE YOUR STANDARD!!
What is that thing that you hold yourself to?
— the thing that you stand for…
— the things that you are about…
— What is your standard?
Raise your standard….
— think a little bigger
— expect a little bigger
— dream a little bigger

But every single day set your standard a little higher.
Here are the two S's for you to raise your standard:
1. Sell yourself!
2. Seize the moment!
Own the Moment — Seize the Moment — Be your Best!
Who Loves Ya?!
I Do!
WIN ALL DAY!
Coach JC