"Timeout!"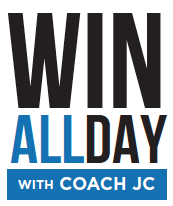 I put together a WINNING WORD OF THE DAY so you can WIN. The word for today is "TIMEOUT"..
TIMEOUT!!
Every successful team takes strategic timeouts….
— to regroup …
— to refocus …
Take a step back to get it together.
Here are the three R's for your timeout:
1. Recognize! — Be aware of what you are really good at and were you need adjustments.
2. Refocus! — What is the goal of your game?
3. RAIN!! — Make it RAIN — Win the game!
OWN THE MOMENT — MAKE IT RAIN
Win the possession….enough winning possessions will take you to victory!
Who Loves Ya?!
I Do!
WIN ALL DAY!
Coach JC