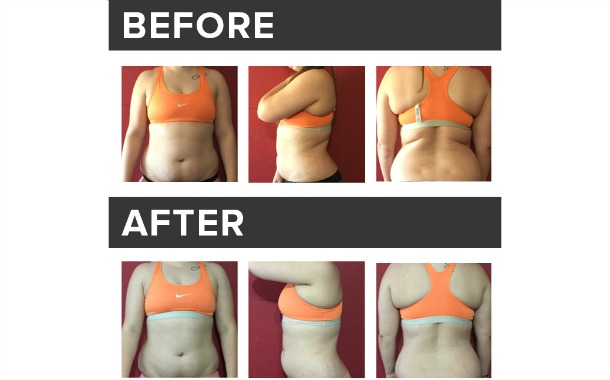 Amanda Shook sets goals and demolishes them at Strong Women!
Amanda Shook joined Bootcamp Tulsa in December 2015 and Strong Women in March 2016. She has never been able to stick to a fitness plan and had no direction on nutrition. She would go to the gym, spend 30 – 45 minutes on the elliptical, do 15 minutes of abs and then go home. She says that is if she went at all. She shares, "I could never stay motivated. I had always wanted to lift weights but always felt like I was being judged when I stepped in the gym. With BcT I was seeing results, losing weight and a few inches. Since March I have seen a HUGE difference. Even my coaches and the people that saw me at BcT day one have made comments."
Physically Amanda has muscles she never knew she had ever before. She exclaims, "Hello arms, abs, and traps! Mentally I'm feeling stronger and more confident. Before BcT and SW I was in a bad place mentally. I am starting to feel like my old self…only better! I find myself seeing the positive in most situations. Spiritually I can feel myself growing and starting to want to seek a stronger relationship with God. Relationship wise I have always had a few friends, and now I have met some great friends I love working out with. I can't wait to get to my workouts. I get to share SW with my sister at least once a week so we push each other to bet better than what we feel is our best."
Amanda has found she is able to do more reps and go a little longer without feeling winded. She noticed changes with BcT, but SW has fast-tracked those changes. SW also makes her more accountable on her nutrition because she doesn't want to do burpees for forgetting her food log!
Amanda explains how Strong Women has made a difference in her life: "SW has changed my life by allowing me to push myself to my limits and then go beyond them. When I start to second guess myself on the amount of weight I can lift Coach Jaime is there to say 'That was too easy, add more weights!' The ladies are all amazing! We push each other to get heavier weight, get that extra rep and encourage each other. It's empowering. I enjoy working out now, and I love to set goals and demolish them."
If you are considering joining Strong Women, Amanda advises, "Do it! Don't question it. Lifting weights is a ton of fun and pushing yourself to see what you are capable of physically and mentally is so rewarding. Joining SW is the best decision I've made since joining BcT. What do you have to lose? Come join us!"
If you enjoyed this post, I would be honored if you share this goodness with some of your friends and family using one of those social media sharing buttons below…
PS. And if you'd like to get more posts like this with more 5 min blasts so that you can start WINNING more, just subscribe here and I'll send you the new one's as I post them…