Craig Coats is a 40 year old Firefighter with the Tulsa Fire Department. He has been with them for 9 years and has been a part of Fit First Responders since May. He registered late but has completed at least three workouts every week including the first.
Craig's favorite aspect of FFR is by far the Teamwork and Leadership…not only from the coaches who provide outstanding leadership, passion and a ton of 'give a damn' but from everyone in there gutting it out every day! He loves the opportunity to challenge others and be challenged to get through the workout and give more in other aspects of his life. He says, "I love the huddles and opportunities to hear others share their victories and a chance to talk with fellow FFR members about challenges inside and outside of the gym they may be facing. I love the opportunity to say or do something that might make a difference in someone's life." Craig has missed leading soldiers in the Army since retiring, and this has been good therapy for him.
"I said I was going to do it." This is what keeps Craig coming back. He loves the positive atmosphere, the results, the camaraderie, spirit de corps, and how he feels after a workout.
Physically Craig feels better with the diet and exercise. His cardio is much improved, and he has lost 20 pounds. He says, "I don't wear out at fires even with the hot summer temperatures, and my deadlift max has increased over 100 pounds. Outside of the gym, I have seen a change in how I approach my relationship with my fiancé, and I feel better prepared for getting married." His goal setting and confidence have changed, and he feels better prepared to take the Fire Equipment Operator (Drivers) promotional exam in November.
FFR has changed the way that Craig thinks about exercise and food. He explains, "Instead of just working out being something that I had to do to pass a physical test or get by, I think of it more as a life and death decision with that type of urgency to get ready for the next call or situation. Before I never thought about food. I just ate and drank whatever or whenever." He hated the thought of a "diet" to follow every day like a punishment. Now he thinks about it as fuel and as another tool to get him to his goals.
Craig adds, "FFR has given me a much needed opportunity to win physically that I was missing in my life. It has helped restore my sense of pride and determination to win and the confidence that I can not only win but help others to win."
Craig would tell someone considering coming to FFR to just come and see. He describes FFR, "The atmosphere is positive, the results are undeniable, and we need YOU. That's right, WE NEED YOU. We need you to come and push us, inspire us, and share your story. Give us a chance to love on you and push you and make you better. We can't do it without you. Together we WIN."
Craig competed in The 2015 FIT First Responders , FIT FOR DUTY. FIT FOR LIFE. Challenge and placed Top 15 out of 175 competitors.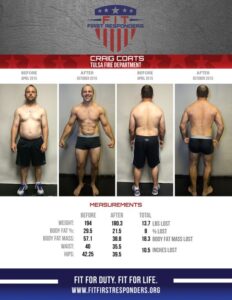 Coats lost 14 lbs., 8%  Body Fat, 18.3 lbs. of Body Fat Mass, and 10.5 Inches.
If you enjoyed this post, we would be honored if you share this goodness with some of your friends and family using one of those social media sharing buttons below…
Keep WINNING!
FIT FOR DUTY, FIT FOR LIFE
THE FIT FIRST RESPONDERS FAMILY