I have got 2 things that you can learn from Kevin Durant being named the MVP and his acceptance speech that can help you WIN more in life.
I'm a Jersey boy but being in Oklahoma as long as I have, I have grown to become a OKC Thunder fan…
Or should I say a KD fan!
I have been blessed to train athletes for over 13 year now and Kevin Durant's NBA MVP speech was golden for 2 reasons.
If you know me you know that I'm all about winning not only as an athlete but in life. WINNING on the court and winning off the court.
This is why I wrote my book,
The Secret To REAL Athlete Success
"How To Create The WINNING Mindset So That You Can WIN as an Athlete and WIN in Life!"
To provide athletes with a game plan to WIN as an athlete and in life.
So when I see an MVP like KD who stands up there and is transparent, real and knows what he stands for and what he's about, it's a beautiful thing to me.
If you're an athlete, a businessman, a stay at home mom or just a flat out human being you better know who you are and what you're about.
In business we call it your "BRAND"…
Who you are and what you stand for. What your customers know you as and what makes you relevant, relatable and memorable.
As a human being, WHAT'S YOUR BRAND ABOUT?
Who are you?
What do you stand for?
What do you want people to know you as?
What do you want to be remembered for?
There are 2 valuable things you can learn from KD's speech to help you create your personal brand and WIN more in life…
And just incase you missed his speech here it is…
The 2 valuable things you can learn from KD's speech to help you WIN more in life…
1. KNOW WHO YOU ARE AND WHAT YOU'RE ABOUT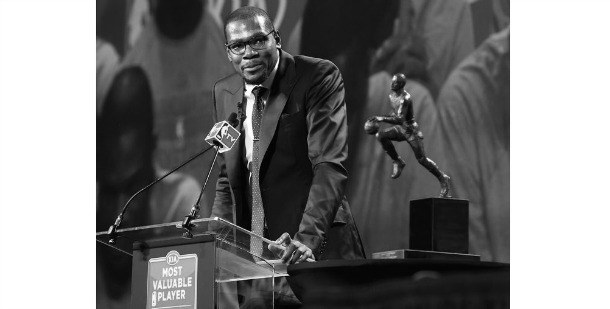 "I'd like to thank God for changing my life, he let me realize what life is all about. Basketball is just a platform in order for me to inspire people"
That was KD's opening remark.
REALLY?!
Proverbs 16:3 says, Commit To The Lord ALL You Do and Your Plans WILL succeed"
Why do you do what you do?
What's Your Purpose?
KD, the MVP of the NBA, one of the highest profile athletes on the hardwoods…
Revealing his reason for why he does what he does…
That his talents are meant for a bigger purpose than just hooping.
M…to the freakin…V…to the Freakin…P
MVP! Enough Said!
Who are you?____________________________________________________________________
What are you about?_______________________________________________________________
What's your purpose?_______________________________________________________________
I like this so much that on June 7th I will invest in a pair of KD's…

This is big for me because the only other sneaker I have ever worn with another guys name on it is MJ. I will rock these with pride in knowing that this guy is all about WINNING on and off the hardwoods.
2. NEVER FORGET WHERE YOU CAME FROM AND WHO GOT YOU THERE.
After KD was done thanking every one of his teammates and coaches by name he wrapped up his speech by thanking his mom with praise and honor with the statement….
"YOU ARE THE REAL MVP"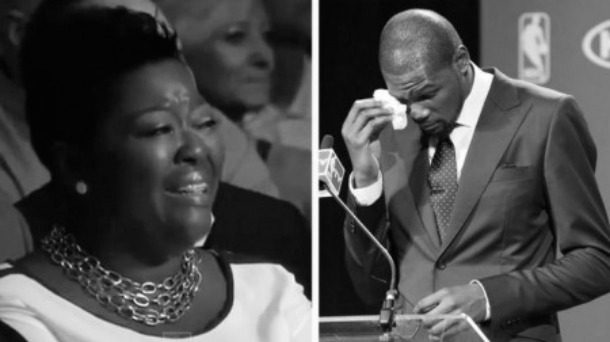 All the money he makes…
All the fame he receives…
KD did not forget where he came from and who helped get him there.
I can relate as I had a mom that sacrificed all for myself and my sister and who is my role model and the REAL MVP in my life.
 I hate when I hear people say someone is a self made millionaire, etc…
No one is a self made anything!
Never forget who helped get you there!
Who do you need to thank for helping you become who you are?_______________
KD then went on to say…
"When something good happens to you, I don't know about you guys but I tend to look back to what brought me here!"
Every thing you went through in life or may be going through at the moment is molding you and preparing you for who you need to be and will be. Don't forget this!
Your hard work will take you to high places but your character is what will keep you there.
During the hard times, the low times, those times of sacrifice is when you build the character that is needed later on.
Always remember it's not about the situation but how you choose to respond to the situation…
KD's mom made a choice to focus on giving her sons the best opportunity to succeed and that is what my mom chose to do in our challenging times growing up as well.
Search for the meaning in the moment. Look for what is right in your life and not what may seem wrong.
Know that each season of your life is to propel you for the next and that your greatest days are ahead.
What things are you going through in life that you WILL CHOOSE to allow to propel your future?
___________________________________________________________________________________
There are so many other things you can learn from this young man and his speech…

But I will wrap this post up just how KD wrapped up his speech…
"Last, I'd like to thank God again, Your the first and the last , alpha and omega, I thank you for saving my life!"

"The End!"
WIN ALL DAY!
Coach JC
JC
If you enjoyed this post, I would be honored if you share this goodness with some of your friends and family using one of those social media sharing buttons below…
PS. And if you'd like to get more posts like this one and start WINNING more, just subscribe here and I'll send you the new one's as I post them…