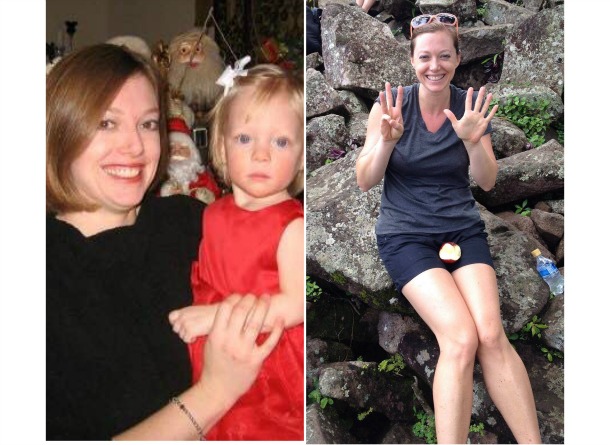 Stephanie Brown loves the energy BcT gives her for her day!
Stephanie Brown is a 36 year old mother of three, a wife, and a music teacher. She has been a part of Bootcamp Tulsa on and off for six years. She started back in 2009 with Lydia Thomas. Stephanie called Lydia late one night and said, "Ok, I'm going to do it! Come with me!"
Stephanie was going on a cruise for her 10th wedding anniversary and needed to look good. She says of her first day at Bootcamp, "I was supposed to take all three of my kids to a dentist appointment that day but I had to cancel all of their appointments because I literally could not move! I really hadn't worked out since I was pregnant with my twins. When they were born I thought that I had 'no time' to workout and did not focus on myself. I have now consistently been a part of Bootcamp Tulsa for the past year and a half. I will tell you that I have joined several "bootcamps" around Tulsa and BcT is the best workout by far! (And, they have the best coaches and girls around!)"
Stephanie's favorite thing about BcT is the amount of energy that it gives her to get through the day. She explains, "I never regret working out! When I don't feel like getting out of bed, I just tell myself…'you will regret not going!' I can always tell the difference in my amount of energy by the end of my workday if I do not workout! Teaching 225 little kiddos everyday is exhausting! Plus, I still have to have energy for my own three kids and of course the one who requires the most energy, my husband! "
Since joining BcT, Stephanie has gone from a size 10 to a size 6. She adds, "I feel confident about myself, and I know that I am doing something that isn't just for me but for my family as well! I love being able to do things with them and keep up with them! I also love being able to do things that people wouldn't expect me to do. For example, we "flipped" a house this last year, and I hired some teenage boys to help haul off trash and do some dirty work. I love to be outside and get dirty! So, they were all shocked when this 36 year-old lady started hauling off huge sections of fencing and loads of dirt in the wheelbarrow! I showed them!"
Stephanie says that BcT helped prepare her for a huge lifestyle change a few years ago. In 2013 her two sons were diagnosed with Celiac disease. This meant that they could no longer eat gluten. She said, "But, since I was already following the BcT 10 habits, this diagnosis was quite easy to handle. I remember my mom telling me, 'Well, Stephanie, you mostly already eat like that anyway!' Of course, kids still want to have their treats (and they do) but the transition to gluten free went pretty smoothly! "
Stephanie would encourage any lady to come out and try bootcamp for two weeks and see what they think. She said, "The results will be amazing and you can get your life back!"
If you enjoyed this post, we would be honored if you share this goodness with some of your friends and family using one of those social media sharing buttons below…
Keep WINNING!
The Bootcamp Tulsa Family